Balatonfüred, August 22, 2023 – After two and a half days of registration and inspection, the highly anticipated 2023 J24 European Championship officially commenced at the Balatonfüredi Yacht Club in Balatonfüred, Hungary. Organized jointly by the Hungarian J24 Class, Balatonfüredi Yacht Club, and Hungarian Sailing Federation, this event brings together 8 countries, 42 teams, and 210 sailors on board to compete for the coveted European Championship title.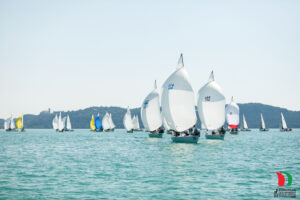 Over the course of 5 days, the championship will feature a total of 10 races. The first day of racing, August 23, is scheduled to include three races as competitors set out to navigate the challenging waters of Lake Balaton.
The event kicked off with a practise race at 3:00 PM in light and variable winds of 4-6 knots from the west. The practice race was claimed by the Hungarian boat HUN205 "Twenty Big 5," securing the first place. The Greek entry GRE751 "Hellenic Police" secured second place, followed closely by the German entry GER4406 "Jux und Dollerei" in third place.